Artikel
Interview: Diving into our winning methodology for generating savings in procurement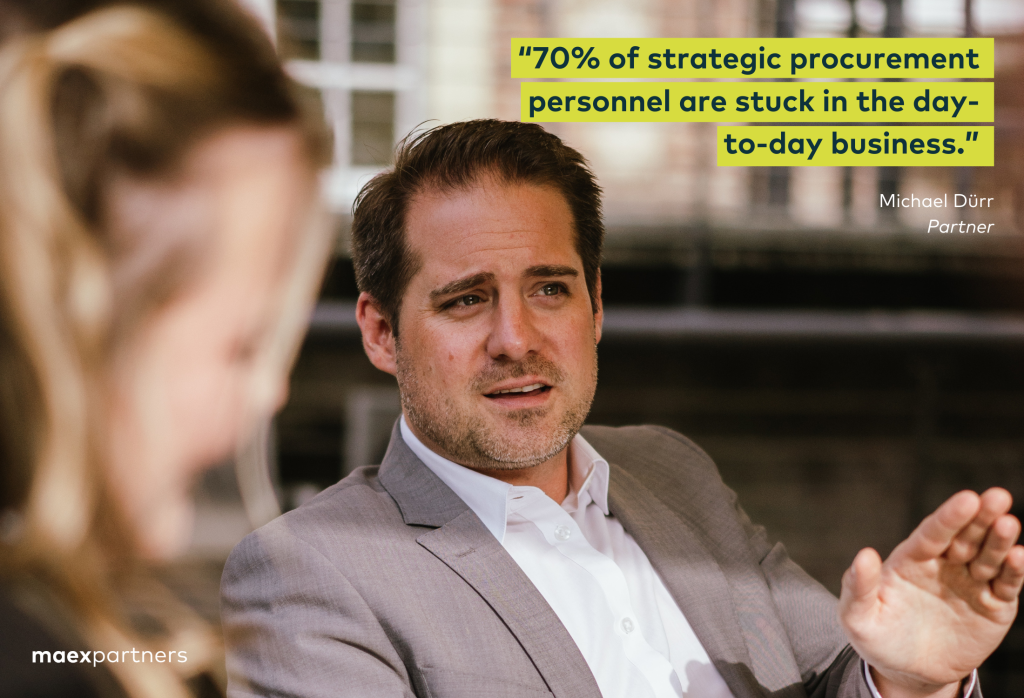 We always strive to systematically enhance the performance of our clients by focusing on a sustained optimization of cost, capital and capabilities. Offering a glimpse into the "savings diamond" methodology, we provide insight into a well-proven method that we've applied for numerous clients leading to a significant reduction of their costs. The model builds upon two pillars: The right pillar focuses on traditional optimization levers, such as volume bundling and increasing competition to quickly identify opportunities and to harvest cost savings in due course. The left pillar dives into collaborative cross-functional strategies all of which hold potential for even higher cost savings and operational enhancements. Read below, what else Michael Dürr, responsible for our clients in the packaged food, health and care products industry, has to say about our winning methodology.
maexpartners: Michael, you have overseen many cost saving projects at large corporations in the food, health, and care industry. What is a reoccurring challenge?
Michael Dürr: The need, the will, and the ideas to optimize cost across an organization is always there. From my experience, 70% of strategic procurement personnel would generally like to do more, yet they're stuck in the day-to-day business. Optimizing costs on a Friday afternoon prior to going into the weekend is simply not enough. Furthermore, systematical approaches to identifying opportunities and cross-functional collaboration with other stakeholders are frequently not properly utilized.
maexpartners: Once you identify these challenges with a client, what is your approach?
Michael Dürr: Usually, most companies we work with associate negotiation as the main lever to manage external spend. I would like to challenge them by introducing the savings diamond which acts as guidance for our clients in identifying cost savings opportunities in all major material groups.
The commercial levers shown on the right pillar of the diamond focus on proven practices to optimize external spend, such as volume bundling, co-sourcing, tendering and different cost evaluation methods. They can be applied very quickly and in most cases without strong involvement of other stakeholders in the organization. The left pillar with its cross-functional levers tackles those that require involvement from different functions but overall bear higher potential for significant cost savings. This includes levers to reduce material or service consumption, product design-to-value and value chain optimizations. By diving into all the layers of the savings diamond you get a holistic and yet specific overview of the concrete cost saving opportunities.
maexpartners: How would you typically put the savings diamond into action?
Michael Dürr: With our clients we usually mobilize a high performing, diverse and innovative team, which is willing to radically challenge the status quo and has a good reputation in the organization. A team that doesn't forget to walk-the-talk in the organization, to create project awareness and acceptance for the upcoming activities. We have observed that day-one change management in such an ambitious project is a decisive factor for success in later project phases, when it is all about implementing radical ideas until P&L effectiveness. We then continue by jointly assessing the potential of each lever for all material groups during cross-functional workshops. We clearly prioritize the different material groups to ensure we adequately address the majority of the external spend during the subsequent activities.
The outcome is a clear perspective on achievable cost savings and profitability improvements on material group level related to the most impactful levers to be applied. And these estimations are not taken out of the blue but are already substantiated during the workshops based on concrete, envisioned actions and/or benchmarks.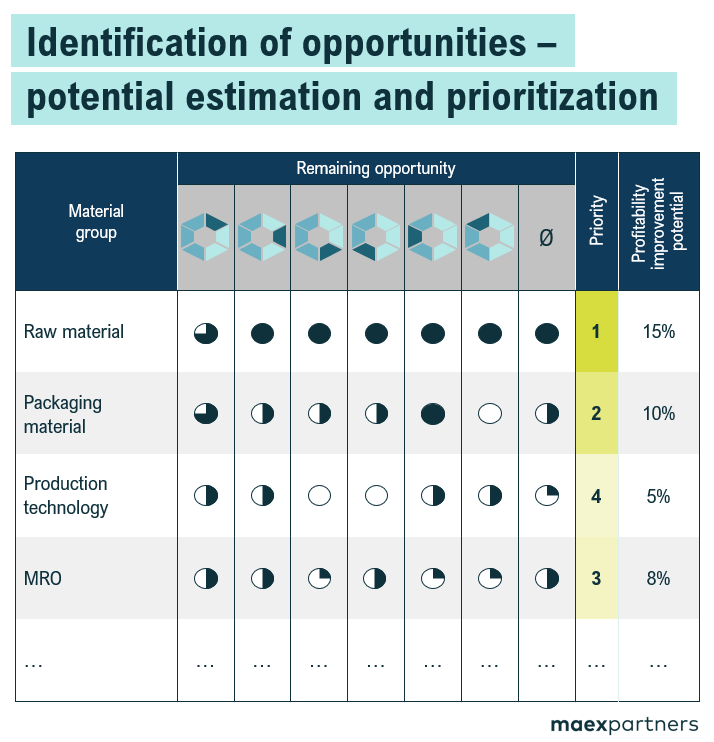 Then, this information is consolidated, and the next steps of the program for the prioritized material groups are agreed. Typically, material group specific teams are installed to drive the defined opportunities and initiatives further, and to materialize the identified cost savings. Once the first results are achieved, we suggest extracting the learnings and best practices, and scaling these to further material groups of relevance.
maexpartners: Are there any other take aways you would like to share?
Michael Dürr: Ultimately, we recommend installing a performance management tool to regularly report the status across all material group teams to the board of management. This keeps motivation high, creates acceptance and attention for continuously working on the subject. Also: the cost savings lever model can be applied universally. You can literally run all your material groups, sub-material groups and items through the model and systematically check every optimization lever for applicability potential.
Thank you, Michael! For more information please contact: